Fast Residential Demolition Dumpster Services in Greenacres, Florida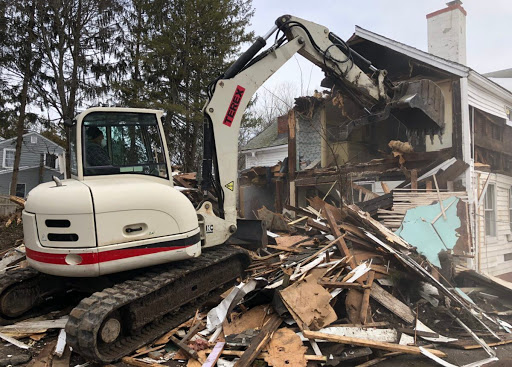 Needing a dumpster will always be something on your list f you're considering a residential demolition dumpster services project, or if you're carrying out one already. Why? To begin with, you have a lot of debris or rubble to deal with, we're sure of this, and leaving it in the curb or middle of the streets isn't an option for your project nor the people around your property. Therefore, what's better than having a designated space where you can toss everything? Debris, rubble, junk, trash, and all waste that comes with your demolition.
And at the end of your project, you will be able to dispose of all without having to struggle with questions like, "Where am I going to throw this?", "Is it okay to leave it in this place?". Because we know how hard it can be to find a suitable place to throw junk, waste, and all the debris that will come out of your demolition. Now, to obtain a dumpster or more than one depending on how big a project is, you can contact us at Greenacres Junk Removal and Trash Haulers.
Our company has been providing Dumpster Services for over 10 years, and we assure you that we have the ones you need to make the disposal of debris and items during your demolition project, easier.
What dumpster do you need?
---
As you might not know, there are several options available when it comes to containers, especially if you're looking one for such a project. Most of the time, residential projects—even demolitions—only require a medium size dumpster where you can toss everything inside. However, it will depend on the specific project you have in mind.
For example, do you plan to demolish a wall of your bedroom or maybe a whole section of the property? For the first option, you could use a small—or 10 Yard—container. We assure you it would be more than enough. But for an entire section of your residential property, a 30 Yard or 40 Yard container will be more suitable.
Also, some dumpsters will be placed for our team in a specific section or area of your property. In this way, you'll only need to walk a bit to either toss something inside with the open-top of the container or walk the item, or waste, in with the door. Of course, your options will vary according to the container you decide to acquire or rent for your project.
We also provide assistance and support
---
When we say that our experts can help you to choose the right dumpster, we're serious about it. Most people believe that Dumpster Rental consists of only delivering and picking it up when you're done with it. However, we also give guidance when it comes to going for the right size, the type of container that suits your budget and needs better, and many other aspects.
Therefore, you can leave it to us and access expert advice if you have no idea about what to do or rent from us. We will make sure you receive exactly what you need, no more—causing you to spend more money—, no less—which is going to keep your needs on-check.
Here is a list of our services you can get at Greenacres Junk Removal and Trash Haulers:
---
Greenacres Junk Removal and Trash Haulers is the top company in Greenacres that offers the best residential and commercial junk removal services. Here's our additional services: