Fast Deck Removal Dumpster Services in Greenacres, Florida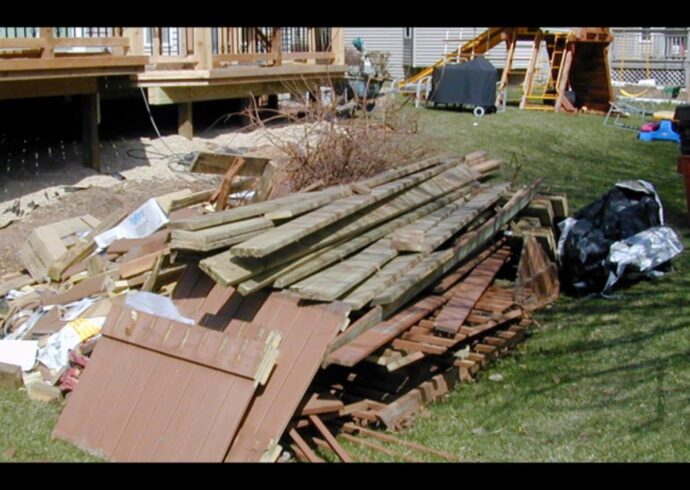 Removing is something that people consider easier than installing, and we have to agree with it but only 50%. Indeed, installing or adding something new always takes more time than removing or getting rid of one—at least, most of the time. Which is why people don't think or hesitate too much when it comes to removing a part or area of their properties, or maybe an element.
However, when you go deeper into what it involves and everything you have to deal with, it won't be as simple or easy as you thought. Starting with one simple thing: dispose of all the materials and parts you're removing. Where are you going to place everything? Once you're done, where are you going to dispose of it?
These two questions are important to answer, especially when you have a project that isn't considered as small as deck removal. Our company, Greenacres Junk Removal and Trash Haulers, can help you with this task. We provide containers that are perfect for demolition tasks such as removing a deck in your property. We have different options and dumpsters available from where you can choose, and if you aren't sure about the one you need, allow us to guide you in the process.
You can put everything in
---
People who are familiar with Dumpster Services worry about what they can toss inside of the containers, and for a good reason. Many companies in the same field as ours, don't provide the best quality dumpsters and as a result, many of them breakdown while clients toss items or materials inside of them.
In our company, we don't have this problem since we make sure to have high-quality bins that will help you to put everything you need to dispose of. Including all the parts and elements you can find while carrying out a deck removal. Such as wood, plastic, aluminum, vinyl, and other parts of different materials.
We are not worried about you throwing something we haven't thought about before since we know it wouldn't be your responsibility in the first place—with a few exceptions. That being said, do you know the right container size for your project?
Why is it important to choose the right dumpster?
---
Because you can be either paying more or less for what you need. Different sizes exist and are available for a reason, so there's no reason to doubt the need of acquiring the right size that goes according to your project. In the case of requesting Deck Removal Dumpster Services, you will most likely access a 20 Yard Container.
Which is the one that most property owners require for this project and we know due to our experience. However, this doesn't mean you can choose another one if you prefer it that way. Also, there's always the probability of a miscalculation due to all the debris and waste you toss on the container, and when this happens, there's nothing you need to worry about.
If you fill one of the dumpsters, we will provide you with a new empty one or pick up the container you have, empty it, and return it for you to continue using. Many aspects and services are included in this alone, so make sure to ask all your questions or let us know your doubts. We would love to answer them before or after you decide to rent a container from us.
Here is a list of our services you can get at Greenacres Junk Removal and Trash Haulers:
---
Greenacres Junk Removal and Trash Haulers is the top company in Greenacres that offers the best residential and commercial junk removal services. Here's our additional services: